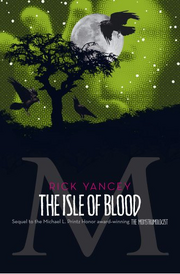 The Isle of Blood is the third book in the MONSTRUMOLIGIST series and was originally thought to be the last.
When Dr. Warthrop goes hunting for the "Holy Grail of Monstrumology" with his eager new assistant, Arkwright, he leaves Will Henry in Victorian New York. Finally, Will can enjoy something that always seemed out of reach: a normal life with a real family. But part of Will can't let go of Dr. Warthrop, and when Arkwright returns, claiming that the doctor is dead, Will is devastated—and not convinced.
Determined to discover the truth, Will travels to London, knowing that if he succeeds, he will be plunging into depths of horror worse than anything he has experienced so far. His journey takes him to Socotra, the Isle of Blood, where human beings are used to make nests and blood rains from the sky—and puts Will Henry's loyalty to the ultimate test.
Ad blocker interference detected!
Wikia is a free-to-use site that makes money from advertising. We have a modified experience for viewers using ad blockers

Wikia is not accessible if you've made further modifications. Remove the custom ad blocker rule(s) and the page will load as expected.